E-commerce in Switzerland – a cross-border e-commerce pearl at the heart of Europe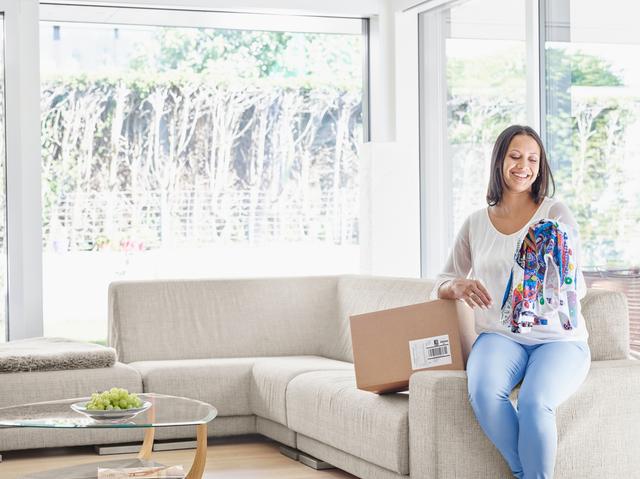 Despite this, many online retailers shy away from cross-border e-commerce in Switzerland. Why? Too awkward, too complicated, too expensive.

In doing so, they're passing up a market that's already lucrative and is set to be twice as lucrative by 2025.

By excluding Switzerland as a sales market, they're shooting themselves in the foot.

If you don't want to shoot yourself in the foot (and who does?), keep reading and find out how you can tap into Switzerland with your cross-border e-commerce!
Contents:
Why is Switzerland so interesting for e-commerce? Three simple reasons

Trade theory in the digital transition: new horizons, old rules

Swiss E-Commerce Report: Switzerland as an undiscovered export El Dorado
Swiss market – large pie, little competition
The Swiss customs barrier – a blessing for smart cross-border e-commerce retailers
The key points at a glance
Why is Switzerland so interesting for e-commerce?
The introduction to this article alone can answer this question. But if a rich and lucrative sales market full of generous customers that want your goods isn't a persuasive enough argument, here are three more reasons on top.
Reason 1: Cheese, chocolate and fat wallets
Switzerland: land of the Alps, melt-in-the-mouth chocolate, a huge variety of cheeses and the highest-income population in the world! Not to mention the Swiss franc, which is as reliable as Swiss clockwork or Arnold Schwarzenegger's biceps.

All of this means that Swiss purchasing power can be compared to the Matterhorn − the absolute peak!

The Big Mac index is an entertaining and illustrative way to compare purchasing power in different countries. Basically, the more expensive the Big Mac, the stronger the purchasing power.

And where can you enjoy the most expensive Big Mac in fast food paradise? That's right, in Switzerland! At an impressive 6.71 US dollars per burger (as of July 2022), the culinary delicacy reaches its highest price there. And this hefty price tag confirms the impressive purchasing power of the Swiss.

Too much text? We've summarized the key points about exporting to Switzerland.
Reason 2: Swiss salaries impact online retail – borderless bargain-hunting
High earners must also pay high prices – so various goods in Switzerland cost significantly more than they might in Germany or Austria.
This applies especially to goods that are manufactured in Switzerland on Swiss salaries because, as already mentioned, Swiss people earn comparatively high wages. This is just as noticeable with prices as it is with high customs duties, which are sometimes added on top.
Moreover, it's not enough to manufacture the product and clear it for customs. The product also has to reach the recipient, and this is usually just as pricey.
To get a feel for how much more expensive goods are in Switzerland, let's look briefly at the findings from a comparison of living costs around the world. We'll start with the German consumer price index of 100 as our starting point. Values over 100 mean higher living costs than in Germany; lower values indicate lower living costs.
Switzerland has a cost index of 154.3 – only Bermuda is higher at 170.7. This means that living costs in Switzerland are around 50 percent higher on average than in Germany, Austria and France! In other words, Switzerland is the second most expensive place in the world. So it makes sense that Swiss customers will look for cheaper shopping options.
Reason 3: A small country with big dreams – local product availability in Switzerland
In the digital land of milk and honey, there is greater product variety than ever before. The same products are available in countless versions, known as SKUs (stock-keeping units).
Swiss customers are no exception and are delighted by a wider selection.
But retailers wanting to offer their customers a spectacular SKU buffet must first calculate their storage costs so they don't end up sitting on their stock.
Curious about the secret recipe for perfect logistics? Our blog will serve it to you on a silver platter!
In your logistics planning, you absolutely have to bear in mind that the sales frequency of individual SKUs rises and falls with increases and decreases in population! Accordingly, localized stock-keeping in Switzerland is less sensible. Switzerland is known for its fairly limited population, and so foreign retailers tend to prefer a warehouse in Germany.
The cleverest solution for this problem lies in the triangle between France, Germany and Switzerland. All three markets can be supplied efficiently from there, saving on superfluous logistics costs.
Nevertheless, Swiss customers have a smaller variety of products available to them. Take a look at and compare the selections on Amazon and Swiss online retailer Digitec Galaxus, and you'll quickly see that there's a huge difference in product variety.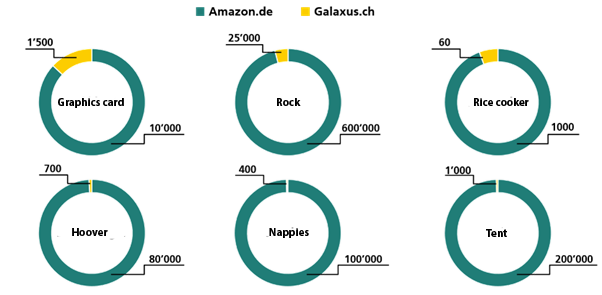 Source: Galaxus.ch and Amazon.de
While Galaxus offered almost 3.5 million items in 2022, amazon.de was already offering around 229 million items back in 2016.

Even though Galaxus without doubt enjoys huge popularity, Swiss customers often have no choice but to fall back on online shops abroad if they want to buy a particular product in a specific design. What an irony of fate: people in Switzerland want and can afford to spend a great deal on goods, but they can't do so because the items are not readily available.

Smart-thinking e-commerce retailers will prick up their ears at this point, organize efficient logistics and give Swiss people what they want!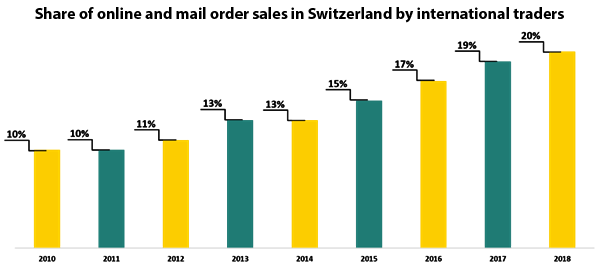 Source: Galaxus.ch and Amazon.de
Trade theory in the digital transition: new horizons, old rules
International online retail is the younger sibling of classic international retail – they share the same genes!

Despite its small population, Switzerland is hugely significant in international retail. Like a seemingly small boxer, it can pull surprisingly lucky punches and, against all expectations, proves itself to be one of the most lucrative sales markets in the cross-border e-commerce sector.

What number of parcels makes it worthwhile tackling goods exporting in cross-border e-commerce?

The answer is one! It can be worthwhile for just one parcel.

"Just one parcel? Impossible!", you must be thinking. Then ask yourself the following question:

Why do goods flow from their country of origin to their destination country? Why are they imported and/or exported internationally at all? It's definitely not because they're bored and want to take a little trip.

Here, too, the answer is as simple as it is brilliant:
Goods are traded internationally when, despite all transaction costs (transport, customs, taxes, workload), they are still cheaper than they are in the destination country.

Goods are traded internationally when they aren't available in the destination country.
Swiss E-Commerce Report: Switzerland as an undiscovered export El Dorado
According to a study by Cross Border Commerce Europe that investigated the 16 strongest European countries in the cross-border e-commerce sector in 2021, Luxembourg, Ireland and Austria hold the top three places. Switzerland follows in sixth place with a hefty 8 billion euros, ahead of significantly larger countries like Germany, Italy, Spain, France and Portugal.

Swiss customers have many good reasons to order goods from abroad – from cheaper prices to a broader selection.

As a retailer, you must be asking yourself: "What would Swiss people particularly like to buy?" One thing is clear: if your business model consists of importing chocolate, cheese or pocket knives into Switzerland, it could be problematic.

But joking aside, there are a range of aspects that demonstrably motivate Swiss customers to make a purchase.

First of all, trust plays a crucial role in both imports and exports. Trade with Switzerland works best when the country of origin creates a feeling of warmth for its customers – like a hot cheese fondue on a cold winter's day.

Alongside a good reputation, Swiss customers pay attention to how far the country of origin is from Switzerland. The closer, the better. For this reason, the DACH countries are particularly interesting when it comes to cross-border e-commerce in Switzerland.

This aspect is particularly worth considering, because it goes hand in hand with the desire for sustainable cross-border e-commerce. More and more Swiss customers want to avoid long-distance deliveries, so they limit their orders from abroad to neighbouring countries.

This makes Switzerland even more attractive as a sales market in the DACH region. The following two illustrations show flows of cross-border e-commerce trade from Germany/Austria and to Germany/Austria.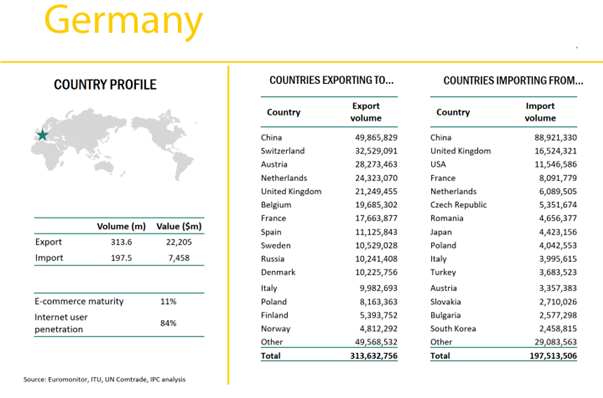 The top three export countries for German retail are China, Switzerland and Austria. It's almost as surprising to find Switzerland in second place after a country as huge as China as it is to know that Germany exports only around half as many goods to France, even though almost eight times as many people live there as in Switzerland.
There are two key explanations for this:
Significant price differences between German goods and goods from Switzerland drive Swiss customers into the hands of German e-commerce retailers.
Linguistic and cultural similarities make German online shops attractive for Swiss customers.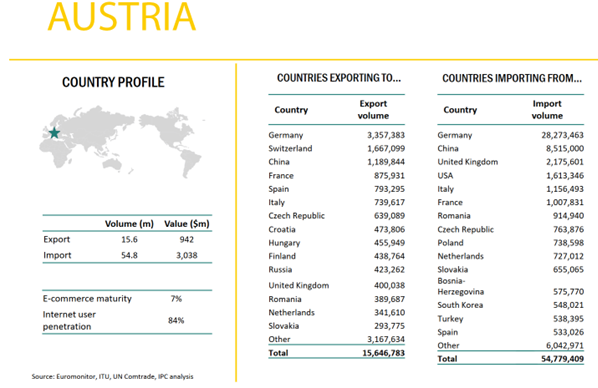 It would be easy to think that the volume of goods that German retailers alone export to Switzerland must cover their every requirement. But no, this is not the case at all!

Swiss customers simply can't get enough of the amazing export goods, which is why Switzerland is also the second largest export country in Austria.

Swiss people are sent around twice as many parcels as French customers and customers from Austria.

This is due to the same phenomena: significantly lower prices and cultural familiarity. The bottom line for German and Austrian online retailers is that those not exporting to Switzerland aren't exporting even half as much as they could. An absolutely senseless waste!

And this doesn't just apply to Switzerland. Cross-border e-commerce is the future of retail, and those who don't move with the times will find that time passes them by. Find out how you can tap into other interesting markets in our blog.
Swiss market – large pie, little competition
One thing should be becoming clear: the Swiss market offers enormous potential for online retailers. Fashion retailers in particular, but also providers of nutritional supplements, will find heightened interest in Switzerland. Depending on the quality of the goods and the product group, Swiss customers pack around 30 percent more into their shopping basket than customers from Germany or France. Sometimes, Swiss customers' shopping baskets are even twice as full.

Would you like to know everything about Swiss customers? If so, read our blog post about Swiss online shoppers' requirements.

Swiss customers have one or two quirks in terms of shopping behaviour that are sure to interest you.
First of all, you should know that over 80 percent of all mail items sent to Switzerland are under 2 kg in weight. This information is especially relevant when it comes to customs clearance. If you consider the weight of the parcel in your shipping strategy, you can save a huge amount on costs.

In addition, Swiss customers are significantly more generous than the average European customer: almost half of all consignments have a goods value of over 65 francs. Only 4 percent of all orders have a goods value of under 10 francs. By comparison, the European average is around 10 percent!

But Swiss customers are not only significantly more generous, they're also in a real hurry. Around one fifth paid extra for express delivery. The EU average is just 7 percent! So you should definitely ensure that delivery of your goods is prompt and isn't delayed by avoidable complications.

And speaking of complications, what was that about complicated customs clearance? As a general rule, no customs duties are charged on shipping within the EU. However, in Switzerland, these duties have to be settled "retrospectively", which can lead to delivery delays and inconvenience with delivery and returns.

Find out everything you need to know about taxes and customs duties in our article on fiscal representation.

To put it in specific terms, if you don't arrange proper customs clearance and your customers have to do the work, it'll come back to bite you when the goods are delivered. Customers will either be required to pay the customs duty at their front door, or things will get even more complicated. The goods won't be delivered if your customer isn't home, and they'll have to pay the customs duty before they collect the parcel.

Luckily, you can arrange efficient customs clearance in advance with very little effort! The Delivered Duty Paid (DDP) process ensures that Swiss customers pay the customs duty at the checkout in your online shop, so when the delivery arrives, they feel as though they ordered the goods in Switzerland. This way, cross-border e-commerce orders remain attractive for Swiss customers, and you can harness the full potential of the Swiss sales market!
Pro tip:


The DDP process doesn't just spare your customers' nerves, it also drives your conversion rates to new heights! With an efficient customs clearance process and automated data processing, you save on opportunity costs, reduce administrative outlay and ensure a smooth returns process. This in turn also pays off for your customers in Switzerland.
For everything you need to know about export customs clearance in Switzerland, take a look at this page.
The Swiss customs barrier – a blessing for smart cross-border e-commerce retailers
For online retailers that are active within Europe, the Swiss customs barrier seems like a haunted house where bureaucracy plays the role of the spooky ghost. It seems like an alien world full of unknown rules and procedures that are preferably best avoided.

Find out all about Swiss customs regulations in our article here.

Customers who aren't yet actively exporting to Switzerland say: "Swiss customs are much too complicated. We'd rather focus on France, Italy and Spain – the markets are bigger, anyway!"

Of course, you can imagine the problem with this way of thinking. When you think like that, the supposedly larger markets sooner or later become oversaturated. And besides, they aren't actually that much bigger. Ultimately, everyone is fishing in an almost empty ocean, while a sea full of fish remains unnoticed nearby. Sounds bizarre? But it's true.

Do you have questions about the new MOSS process? Find the answers in our blog.

If you choose the Swiss market, you'll share significantly more customers with significantly fewer competitors. And it doesn't even mean that you have to tackle the horrors of Swiss customs!

The most sensible thing you can do is invest in DDP logistics. This kills several birds with one stone – you simplify delivery, data processing, customs clearance for your goods and your returns process to boot. What's more, you'll be doing yourself and your customers a huge favour!

Find out in our blog what the perfect returns process looks like. Then you can overcome this hurdle, too!
The key points at a glance
For online retailers that are active within Europe, the Swiss customs barrier seems like a haunted house. However:
Switzerland is a profitable cross-border e-commerce destination country because, despite a relatively small population, it tots up reasonably hefty import volumes per head. This makes the Swiss sales market extremely lucrative.
Swiss customers are more interested in your product per se, because it's either cheaper overall or isn't available at all in Switzerland. No need to beg for purchases − they'll race through your digital doors of their own accord.
The Swiss customs barrier isn't a haunted house with spooky ghosts! If you opt for the DDP process, it allows you access to a sea of customers who can hardly wait to order your products.
Do you have any questions? Don't hesitate to contact us!