Switzerland: A Cross Border E-Commerce Pearl in the middle of Europe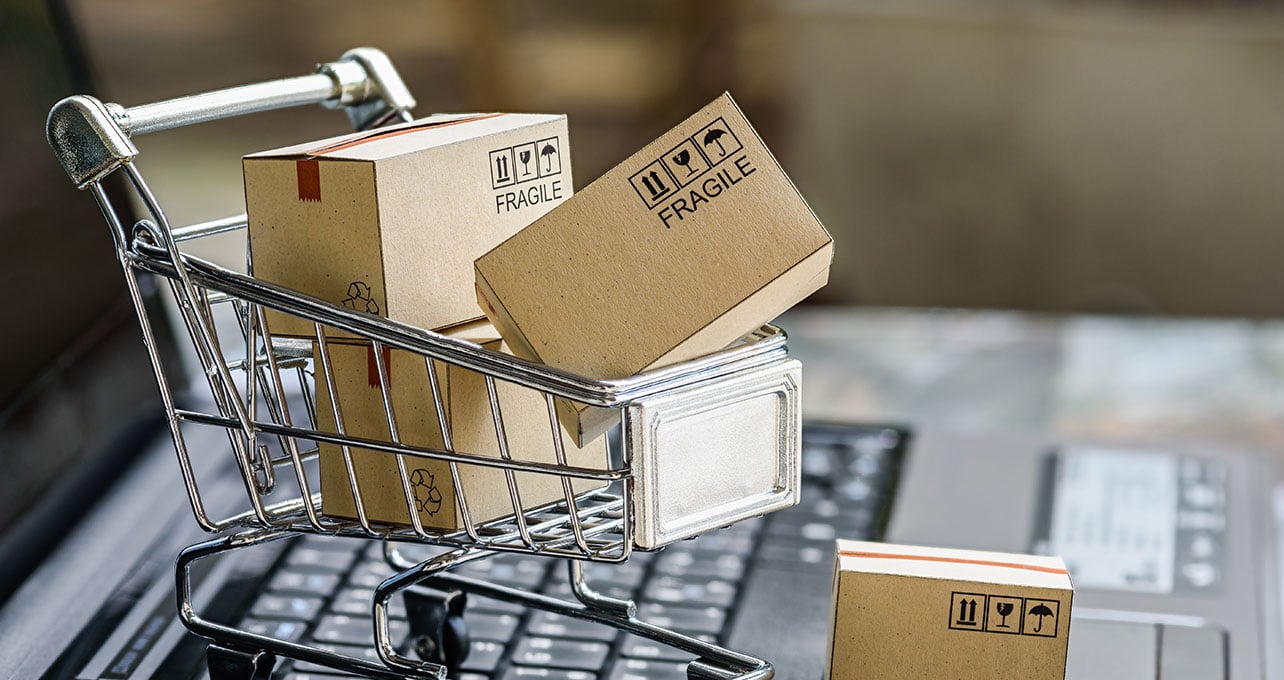 If you are an e-commerce retailer selling products internationally, or you are thinking about expanding into Europe, Switzerland is one of the most significant destinations to consider: per capita, you can generate up to 20 times more sales there for certain product groups than in other markets. Read on to find out why.
In this free guide for e-Commerce Switzerland we'll discuss various aspects of the Swiss cross-border e-commerce market and examine how much exporting to Switzerland will cost you, with links to blog articles on specific topics.
If you want to know what it will cost you to export to Switzerland, you can do so here:
VWL meets E-Commerce - That's why Switzerland is the cross border e-commerce pearl in the middle of Europe
In economics, there is never just one factor that explains a particular phenomenon.
In order to understand why Switzerland, despite it's relatively small population, is generating such an enormous amount of interest from cross-border e-commerce retailers, we must consider several factors.
Purchasing Power pushes e-Commerce in Switzerland
Looking at an international comparison, the Swiss earn the most money worldwide, while the Swiss franc is very strong. The combination of these two factors means that Switzerland is one of the absolute leaders worldwide in terms of purchasing power.
The well known Bic-Mac-Index makes it possible to derive the purchasing power of employees in different countries. UBS has created the so-called iPhone X indicator: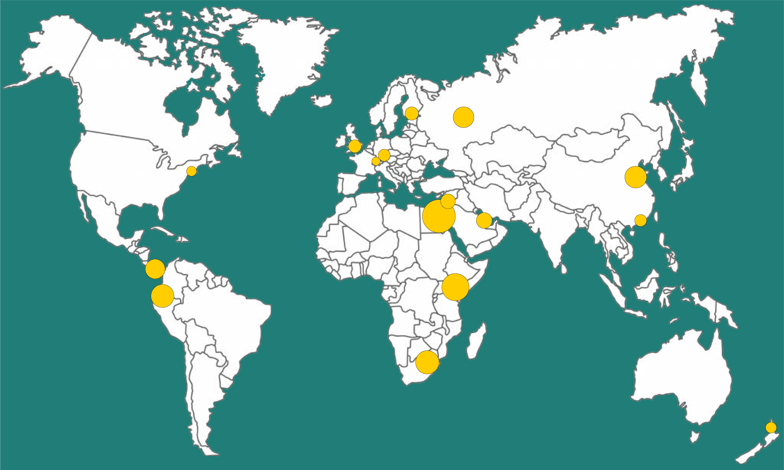 UBS iPhone Index: The larger the bubble, the longer you have to work for your iPhone X.

You can clearly see that the bubble on Switzerland is the smallest on the map. According to the indicator, Swiss people only have to work around 20 hours before they can buy an iPhone. By comparison, at just over 40 hours, German and Austrian employees have to work much longer for an iPhone X.


For you as an online trader, this means that Swiss people can afford your products much more easily than other potential buyers on the world markets. A good argument for e-commerce in Switzerland.
Cross-border online trade pays off for Swiss
High wages are almost always accompanied by high price levels. This is also the case in Switzerland, where many things are considerably more expensive than abroad.
This applies in particular to goods that are either produced locally with high Swiss labour costs or are subject to high customs duties on import. In addition, the distribution of goods generates high costs due to the Swiss wage level.
The following statistics clearly show how much more expensive certain product groups are in Switzerland. The indexed price level in Europe serves as a basis here, with the average value for the EU-28 being 100.
Source: Statistical Data on Switzerland 2018; Federal Statistical Office
The categories clothing and care stand out especially, which is why we have selected them here.
In Switzerland, products in these two categories cost between 35 and 97 percent more than in Germany.
This means that cross-border e-commerce represents a great opportunity for Swiss people to save money. And a great opportunity for your e-commerce with Switzerland.
Local availability
Online shopping now offers a greater variety of products than ever before. Today, the same products are often available in several versions, so-called SKUs (Stock Keeping Units). This is intended to better meet the individual wishes of customers, and this trend is also present on the demand side in Switzerland.
If you as a retailer or producer want to keep many variants of a product in stock, you have to calculate the storage costs very carefully.
The sales frequency of the individual SKUs should increase in line with population size.
Conversely, it decreases with lower populations, so local stockpiling (especially of slow movers) makes less sense for countries with smaller populations.
For example, it makes more sense for foreign traders to set up a warehouse in Germany than in Switzerland. Consequently, the unit storage costs can make local stocking unattractive for slow-moving items.
In this context, it's interesting to note that it's possible to supply all three markets (France, Germany and Switzerland) very efficiently from the border triangle of France or Germany.
In practice, this results in a much lower availability of special products in Switzerland. This is clearly illustrated by comparing Digitec Galaxus, the largest online retailer in Switzerland, with amazon.de:
Source: Galaxus.ch and Amazon.de
The overall comparison makes it even clearer: while Galaxus had more than one million different items in its catalogue for the first time in 2016, amazon.de had already reached about 229 million items at the same time.
The Swiss therefore often have no choice but to buy a product abroad in a very specific design. You can take advantage of this as a retailer or producer, something more and more retailers are beginning to realise.
Cross Border E-Commerce and the classical trade theory
Cross-border e-commerce is subject to the same mechanisms as classical international trade. If you are aware of this, you can also understand why Switzerland, as a cross-border e-commerce destination, fights in a completely different weight category, as you would expect based on its population size.
The only differences are in the details. With cross-border e-commerce, the export of goods to foreign countries can also be done with just one package, so it is not necessary to ship whole containers at once.
The crucial question is, why do goods flow from country A (country of origin) to country B (country of destination)? The answer is simple:
Goods are internationally traded if they can be purchased more cheaply in the country of origin than in the destination country, taking into account all transaction costs (transport, customs, taxes, labour).
Goods are traded internationally if they are not available in the destination country.
Decardes put it this way:
"Specialise in the goods and services that you relatively best at"
For you and your online business in Germany or Austria, this means that, due to the purchasing power and high prices in their own country, Swiss people often look to neighbouring countries to place orders.
Despite additional transaction costs and other fees, importing into Switzerland is cheaper than buying locally in Switzerland. Moreover, some products are not available in Switzerland itself, so importing them into Switzerland is the only option. This offers great opportunities for e-commerce with Switzerland.
Figures for international e-commerce - how interesting Switzerland really is as an export destination
Below is a comparison of e-commerce import volumes of different countries:
In this list, we have listed the well-known, major European markets, as well as an emerging and developing country as a benchmark.
Unsurprisingly, the two largest European countries, Germany and France, generate more volume with e-commerce than Switzerland. However, the fact that Italy is already generating less e-commerce import volume than Switzerland should come as a surprise. E-Commerce Switzerland is ahead.
Despite Brazil and India having much larger populations, their cross-border e-commerce import volumes are much lower, which allows us to jump to the next metric - import volume per inhabitant:
If we look at the results per inhabitant, e-commerce Switzerland is again far ahead. Since there are many reasons for the Swiss to import products from abroad, they are clearly making the most of this opportunity.
As a retailer who wants to start e-commerce with Switzerland, you should know exactly which products are particularly in demand for export to Switzerland. We have taken a closer look at some product groups—take a look at the results in the next chapter.
When exporting abroad and importing, trust also plays an important role. Exporting to Switzerland works best when customers have a good feeling about the country of origin. In addition to a good reputation, buyers also pay attention to the distance from Switzerland. With this in mind, the flow of trade between the DACH states are particularly interesting.
The following two figures show the cross-border e-commerce flow of trade to and from Germany and Austria.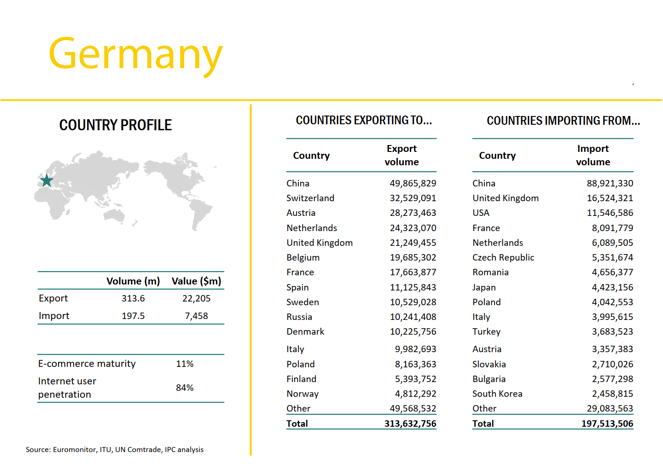 Switzerland is one of the most important export countries for German trade, with only China surpassing exports to Switzerland. Only about half as many goods go to France, although around eight times more people live here than in Switzerland. Significant price differences play an important role here, too.
Furthermore, linguistic and cultural similarities continue to play into the hands of online retailers in Germany when exporting to Switzerland. Language is an important topic for successful e-commerce in Switzerland.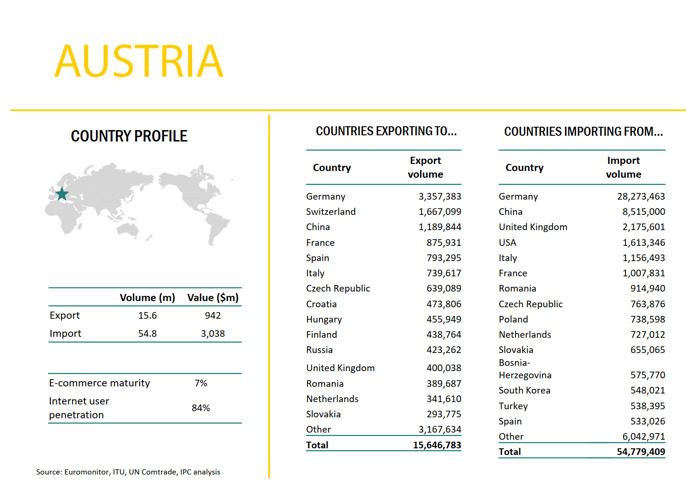 In Austria, too, Switzerland ranks second in terms of exports abroad. With around 1.7 million consignments, twice as many parcels are sent to Switzerland as to France, which is much larger.
The reasons for this are largely the same as for Germany.
The bottom line is that Switzerland is one of the most important export markets for German and Austrian online traders
For those who cannot or do not want to serve the Chinese market, Switzerland is by far the most important export destination.
Considering these figures, it's a good idea for online retailers to keep an eye on Switzerland. There is a huge hidden sales potential here which few realise given the relatively low population. Significantly more sales are generated per customer than in France or Germany, while in the clothing category, the Swiss sometimes outperform their neighbours fivefold.
This principle doesn't only apply to Switzerland, of course. Cross border e-commerce offers interesting opportunities in other markets.
E-commerce Switzerland: What products do Swiss people buy from international e-commerce traders?
The following table shows which products are particularly popular for export to Switzerland: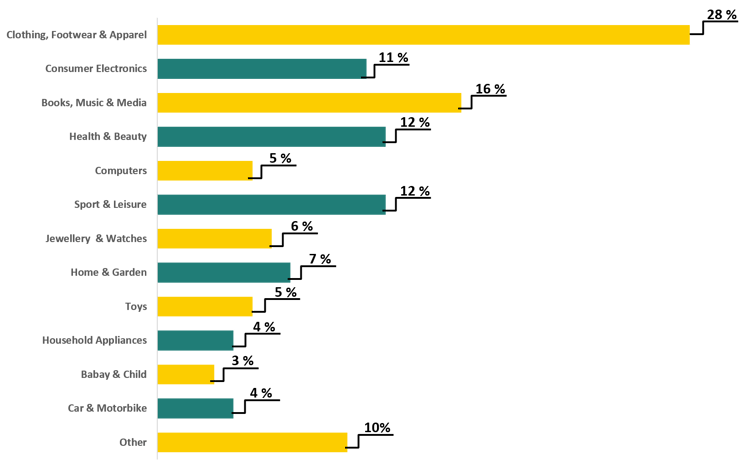 Source: IPC; CROSS-BORDER E-COMMERCE SHOPPER SURVEY – SWITZERLAND - 2017
Shoes and clothing were clearly in the lead with 28 percent. In our blog post you can read about the hurdles a fashion retailer faces when they want to export to Switzerland.
Books, music and media occupy second place with 16 percent, while sport and leisure, and consumer electronics are at 12 and 1 percent respectively. The table also shows that women and younger respondents are more likely to buy clothes, while men are more interested in consumer electronics.
However, there is one thing that needs to be considered when thinking about cross-border e-commerce to Switzerland. When exporting within the EU, there are no customs duties, value-added tax (VAT) or customs fees to be paid. This is not the case with Switzerland. As a result, buying abroad won't always represent value for money to a Swiss consumer.
However, there are solutions to this problem. Traders in Germany and other European countries can fall back on the Delivered Duty Paid (DDP) customs procedure. This is a process in which all additional costs (customs duties, VAT and customs fees) for Swiss customers are already taken into account at checkout. This makes e-commerce in Switzerland much easier.
In practice, purchasing is therefore just as uncomplicated as in any Swiss online shop, and the costs are always transparent.
Professional tip:
As an international provider of logistics services, we have found that online traders with DDP logistics can achieve a much higher conversion rate than those who export their goods to Switzerland with the duty unpaid. This is not surprising, since in the latter case the retailer is expecting a lot from the customer, and isn't providing the stress-free buying experience they want, while they certainly don't want to have to pay unexpected fees at the front door. You can find out more about import customs clearance in Switzerland on this page.

International e-commerce benchmark at industry level
In our experience, retailers who rely on DDP don't have to worry about comparisons with online trading in Europe, and there is huge potential on the Swiss market for providers from Europe. Exports to Switzerland and therefore e-commerce with Switzerland are particularly interesting in the following sectors:
Comparison of shopping baskets in European online trade
The shopping baskets in Switzerland are more full than in other European countries. The differences depend both on the product group and quality, but on average Swiss customers have around 30 percent more in their shopping basket than customers from Germany or France.
In some cases, the shopping baskets of Swiss customers are twice as full. There is increased interest in food supplements, for example. For you as a retailer it is always important to know which articles are particularly in demand for export to Switzerland. The following graph shows how it looks on average in comparison with other European countries:
The Swiss Customs Barrier - A blessing for smart, cross-border e-commerce merchants
Many retailers selling internationally, or those who want to do e-commerce in Switzerland, are deterred by the Swiss border and customs barrier. This is especially true for e-commerce merchants operating within Europe. You can find everything about the customs regulations of Switzerland in our article here.
This is what we hear from the majority of retailers not yet exporting to Switzerland:
"Switzerland's customs rules are much too complicated. We prefer to concentrate on France, Italy and Spain - the markets are bigger anyway!"
The problem with these retailers is that they all think the same way! The result? They almost all compete in the same markets, leaving out the e-commerce market Switzerland.
In addition, they are fighting each other in markets that generate fewer cross-border e-commerce imports than Switzerland, such as Germany and Austria, due to high local supply (national competition) and relatively low local prices.
This means retailers who choose to market themselves in Switzerland share the country's consumers with fewer competitors. This is particularly true for traders who take all the inconvenience of customs clearance out of the equation by investing in DDP logistics.
You would like to export to Switzerland, but the costs are a thorn in your side? In our white paper, we show you in 6 steps how you can save costs efficiently - simply and easily!
Summary - this is why Switzerland is so interesting for cross-border e-commerce traders
Switzerland has a high per capita e-commerce import volume.
This provides yet another reason for you to consider Switzerland as a cross-border e-commerce destination.
The per capita import volume results in interesting total volumes. In addition, your acquisition costs, for example through Google Ads etc., are expected to be lower than would be the case in other markets as your products are of more interest to Swiss consumers due to their low price and general availability.
You want to ship to Switzerland, but you still lack the facts? Our Switzerland E-Commerce Report provides you with the information you need.
Do you have any questions concerning e-commerce Switzerland? Do not hesitate and contact us.
Professional tip:
Read about how you can push your e-commerce Switzerland KPIs with the right combination of logistics and marketing in this blog article: "How to turn your Swiss logistics into a conversion booster".

E-commerce in Switzerland? The customs barrier is your friend!
Many retailers shy away from the investment and perceived risk of a trade transaction involving customs and tax processes. This means the international e-commerce competition in Switzerland is not as fierce as it is in 'easier' destinations, for example France, Italy, Spain or the UK.
In any case, make sure to choose a suitable customs clearance approach. In the case of goods above the exemption limit, it is recommended that a consignment be cleared through customs in advance. Currently, the exemption limit including shipping and other fees is CHF 65. Pre-clearance is not witchcraft.
Discover our white paper for practical tips and tricks for environmentally conscious shipping. We show you the impact of your packaging on sustainability and how you can implement sustainable logistics with our measures. Be part of the sustainability movement and get our whitepaper for a greener future now!