Cheap shipping international – how to save a lot of money when exporting to Switzerland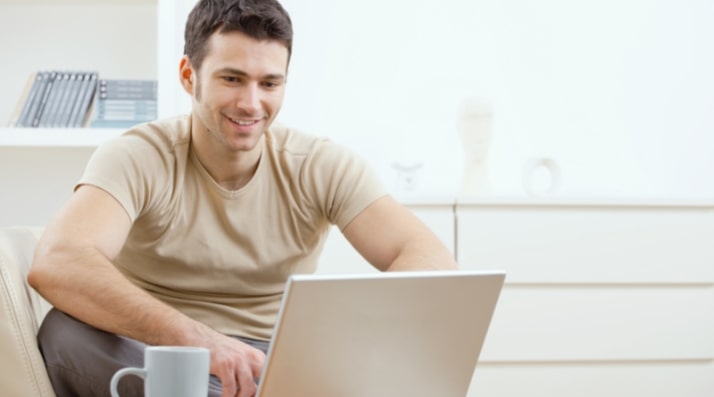 Do you sell your products across borders and would you also like to supply customers in Switzerland in the future? Or are you already doing so? Then you already know that customs clearance of your goods can be quite complicated.
At least if you don't know what huge savings potential the right shipping solution can offer – both in terms of time and costs.
Mailbox Plus
With Mailbox Plus, Swiss Post has the perfect all-in-one solution for online retailers who want to reduce their e-commerce shipping costs when exporting to Switzerland and simplify the entire process.
Collection
Customs clearance (export & import)
Delivery
Local Swiss returns management including processing and returns customs clearance
Returns transport
IT integration via API interface
Flexibly adapting to customer requirements
As you can see, Mailbox Plus is therefore particularly interesting for online retailers who already ship their goods pre-cleared – this is also referred to as DDP. This is an Incoterm and, to put it simply, means that the retailer pays all costs such as customs clearance and taxes themselves.
For Swiss customers, this means that they do not have to pay any more costs; they receive the delivery as if they had ordered in Switzerland. This of course greatly increases customer satisfaction.
As a retailer, it's almost standard to offer delivery to Switzerland on a DDP basis. Swiss customers know their customs very well and, if possible, avoid ordering products abroad for which they then have to pay additional fees.
Incidentally, the classic counter-example to DDP is DAP. Here, the customer pays all applicable customs duties, taxes and fees. The next section offers you a brief overview of this.
Want more details? Then read all about Incoterms in more detail in the article DDP and DAP Incoterms in the Swiss Post blog.
The typical DAP shipment in the mail or courier channel
Just so you know how best not to do it: this is what classic DAP shipping looks like – but if you already deliver your products via DDP, you can safely skip this and read on here.

The customer orders from your shop and pays for the goods plus shipping costs at the check-out.
You send the goods to Switzerland with a shipping service provider.
The service provider takes care of customs clearance and pays all fees, customs duties and taxes in advance.
The sender delivers the goods and requests the costs back plus an additional fee for their efforts from the customer. The customer pays either at the time of delivery or in advance via an app.
Much more efficient: DDP transport with Mailbox Plus
And this is what DDP shipping looks like:
When checking out, your Swiss customer not only pays the value of the goods including shipping costs, but also customs duties, import VAT and customs clearance fees – the final price therefore already includes all the costs involved.
You send the goods to Switzerland with a shipping service provider.
Your shipping service provider takes care of customs clearance and settles the costs directly with you.
The customer receives their parcel as if they'd ordered it in the neighbouring town.
As you can see, DDP shipping is not only much more efficient, it also strengthens customer loyalty, increases CVR and keeps customers coming back – after all, everyone likes to shop at an online retailer who offers so much convenience.
Reducing shipping costs: five steps to success
Now we come to the five steps that can not only reduce your shipping costs in e-commerce, but also mean the perfect customer journey for your Swiss customers.
In the end, everyone benefits: your customers are happy about the seamless shipping of the products they ordered and you're pleased about the big cost savings.
Would you like cheap shipping international?
Step 1: Data is King
The data necessary for customs clearance has to be documented by customs. This concerns, for example, product descriptions, weights and customs tariff numbers. Each package is processed manually, which can take up to half an hour – or even longer if the value of the goods exceeds EUR 1,000.
The processing of customs data can cost valuable time – the officials may have it, but you don't. So how do you avoid a bottleneck at customs when your parcels get held up?
The magic word is automation. Because why should you do things manually when you can do them automatically?
With Mailbox Plus, you send all the data relevant to customs clearance to the Swiss Post system via API. We process the data and clear your parcels quickly and cost-effectively. This reduces your customs clearance costs to a fraction!
Another advantage compared to manual data processing is that it reduces individual errors. Whether it's a typing error, incorrect product information or a mistake in the customs tariff number: everyone makes mistakes, including Swiss customs. Before you have to deal with an authority in a lengthy and expensive procedure, it's best to play it safe and simply automate the procedure.
A one-stop shop
Once you have sent us the data, it also makes sense to leave the returns management and reimbursement of customs duties to us. Why?
You only need one integration, as all the data goes through the same service provider – this also increases data security.
One contact person for all processes
The empty regular service can be used for the return transport of returns

Step 2: The right channel
For delivery to Switzerland, you can choose between the parcel and the letter channel. You read that right: send your orders as letters! You just have to know how.
Of course, formats and weights are subject to certain restrictions. With Mailbox Plus, Swiss Post also offers the option of sending goods consignments in the international letter channel. In this channel, a distinction is made between two formats:
The N format allows a maximum weight of 2 kg and an added total edge length of 90 cm. So all you have to do is package your parcels smartly and they'll easily fit two pairs of trainers!
The B format, on the other hand, may only be a maximum of 3 cm thick, but also allows a total weight of 2 kg. A dream for fashion retailers – thin tops, shirts or lingerie can be sent inexpensively this way.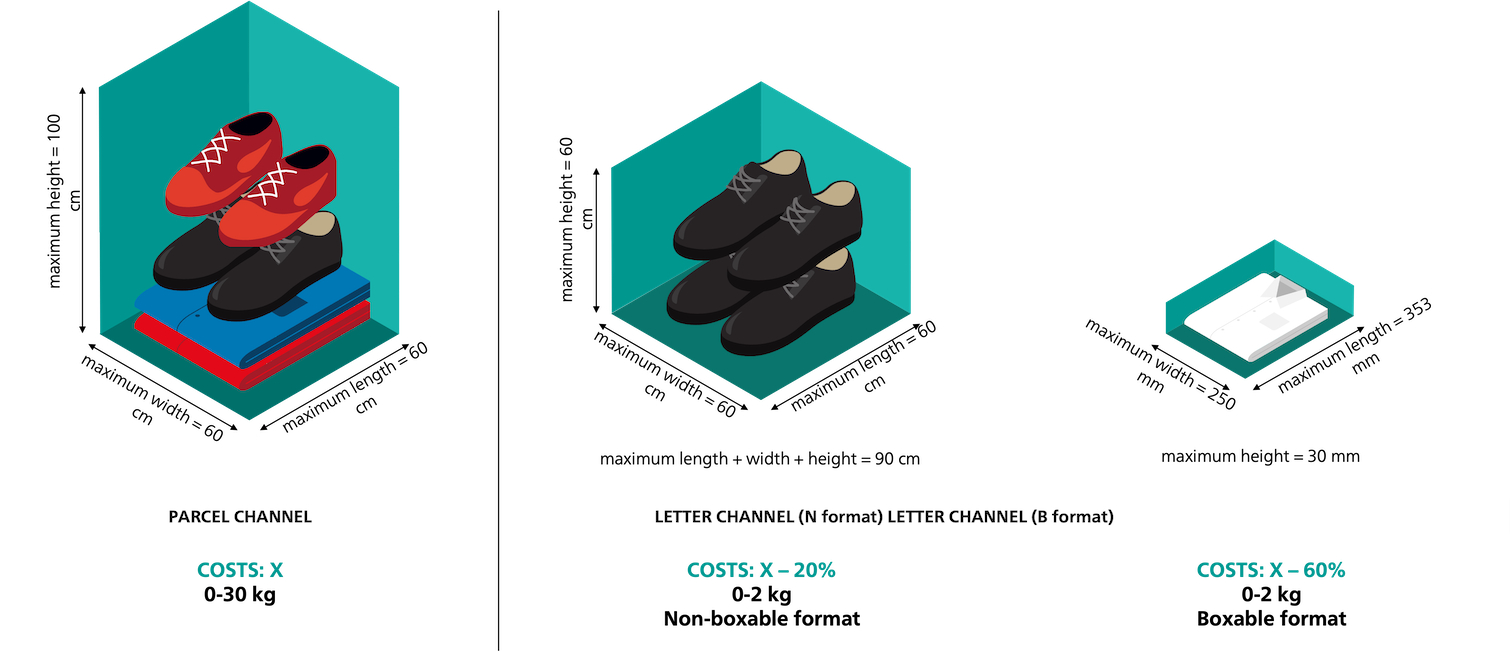 Reduce shipping costs with the mail channel
According to statistics, 80% of internationally shipped shopping baskets could be sent via the letter channel. So if you want to reduce your shipping costs for export to Switzerland, increase the amount of your letter mail.
So why doesn't everyone in online retail do this?
Because most online retailers prefer to use only one process. Therefore, they simply send everything via the parcel channel. This channel isn't subject to the same limitations as the letter channel and is therefore generally more convenient. For large products, this is also perfectly in order.
For small and medium-sized products, however, it doesn't make much sense either economically or ecologically. So what do you do if you want to use both channels without having to worry about different processes and shipping partners?
Check with Swiss Post, use Mailbox Plus and enjoy the benefits! We handle both channels with just one process. In this way, you can enjoy cheap shipping international with the appropriate channel and also enjoy having satisfied customers.
Step 3: Transport in a collective box
Something else you can do to reduce your shipping costs as an e-commerce retailer is to transport your parcels/letters to the collection depot where they will be processed.
Most retailers use a forwarding agency that collects the orders in a truck. However, this is expensive and only worthwhile for large quantities. Whether you pack just one or 30 Euro pallets at once, the forwarding costs do not change significantly as long as a single truck comes to collect the goods from you.
A courier service provider, on the other hand, does not have to deal with the same amount of work as a freight forwarder and can therefore calculate their costs more specifically and in line with your quantities.
This is how the transport in a collective box would look like with a courier service provider:
You receive a national Swiss label for your parcels/letters via our API.
You pack the parcels/letters in a large cardboard box and affix the courier label on it.
The courier collects the box and brings it to an e-commerce hub directly at the Swiss border.
The individual parcels/letters are taken from there and delivered to a Swiss Post logistics center via collective transport.
The consignments are then processed and cleared through customs, based on the data you have previously submitted.
The items are delivered to the Swiss customer the very next day.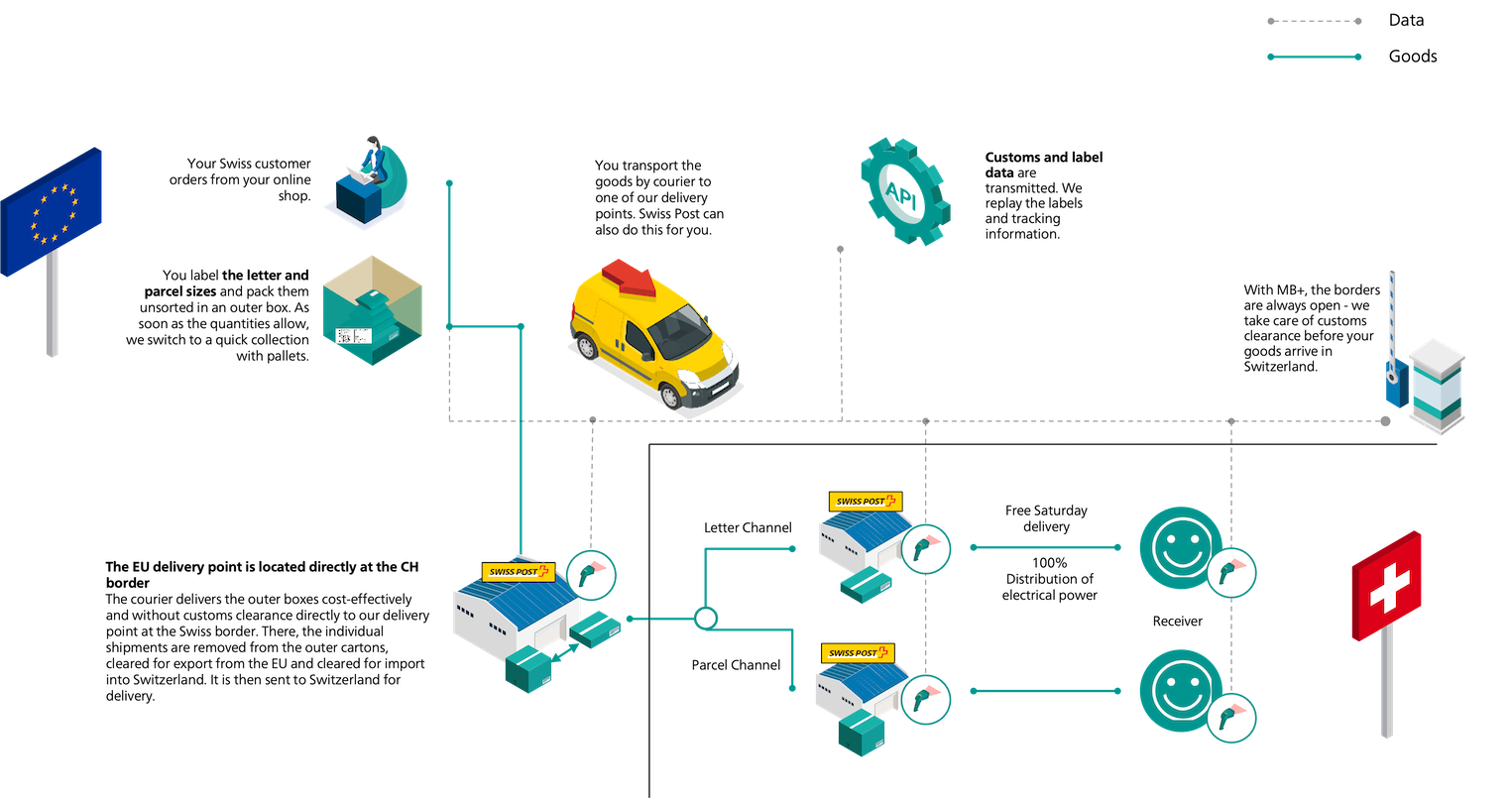 That's how expensively and slow most do it
Would you like to reduce your shipping costs? Then you can find out here how not to do it:

You would like to export to Switzerland, but the costs are a thorn in your side? In our white paper, we show you in 6 steps how you can save costs efficiently - simply and easily!
Step 4: Inexpensive collective customs clearance
You could write a whole book about Switzerland's customs regulations. To make it easier for you, we have summarized the key facts in a blog Customs regulations in Switzerland.
The decisive factor in reducing your shipping costs is the question of whether to choose individual customs clearance or collective customs clearance? We outline both methods and explain why you save time and money with collective customs clearance in conjunction with automated transmission of data via API.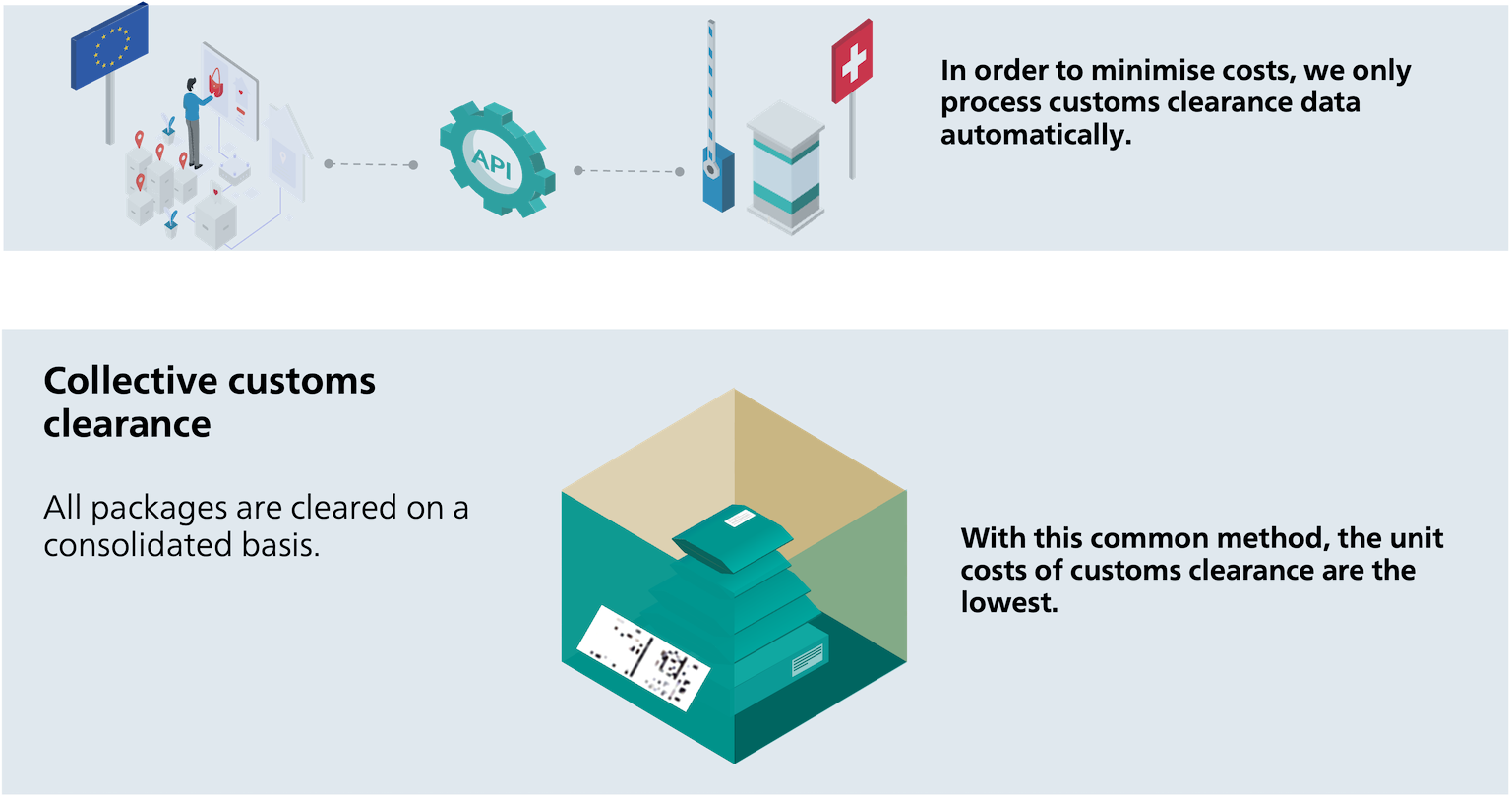 With collective customs clearance, you pay a one-off, flat-rate customs clearance fee for your orders. Your data is collected by your shipping service provider and sent to customs, your parcels are then cleared through customs and the process is complete. Sounds good and goes quickly.
If, on the other hand, you were to send your parcels with a shipping service provider that does not offer automation, they would clear all shipments individually and, above all, manually. They of course charge a fee for this service – and per consignment. Apart from the fact that individual customs clearance costs a lot of time and additional effort, especially at peak times.
An example: the customs clearance fee for individual customs clearance usually costs between EUR 15 and EUR 30, depending on the provider. Assuming that the collective customs clearance costs you a fee of EUR 60 – then you are already on the same level with two to four parcels, but with the collective customs clearance you enjoy significantly faster processing. With larger quantities, on the other hand, you save a lot!
You can easily work it out for yourself: is your order volume so low that the individual customs clearance of your consignments is still cheaper than the collective customs clearance of several parcels? And is the higher expenditure in time worth it?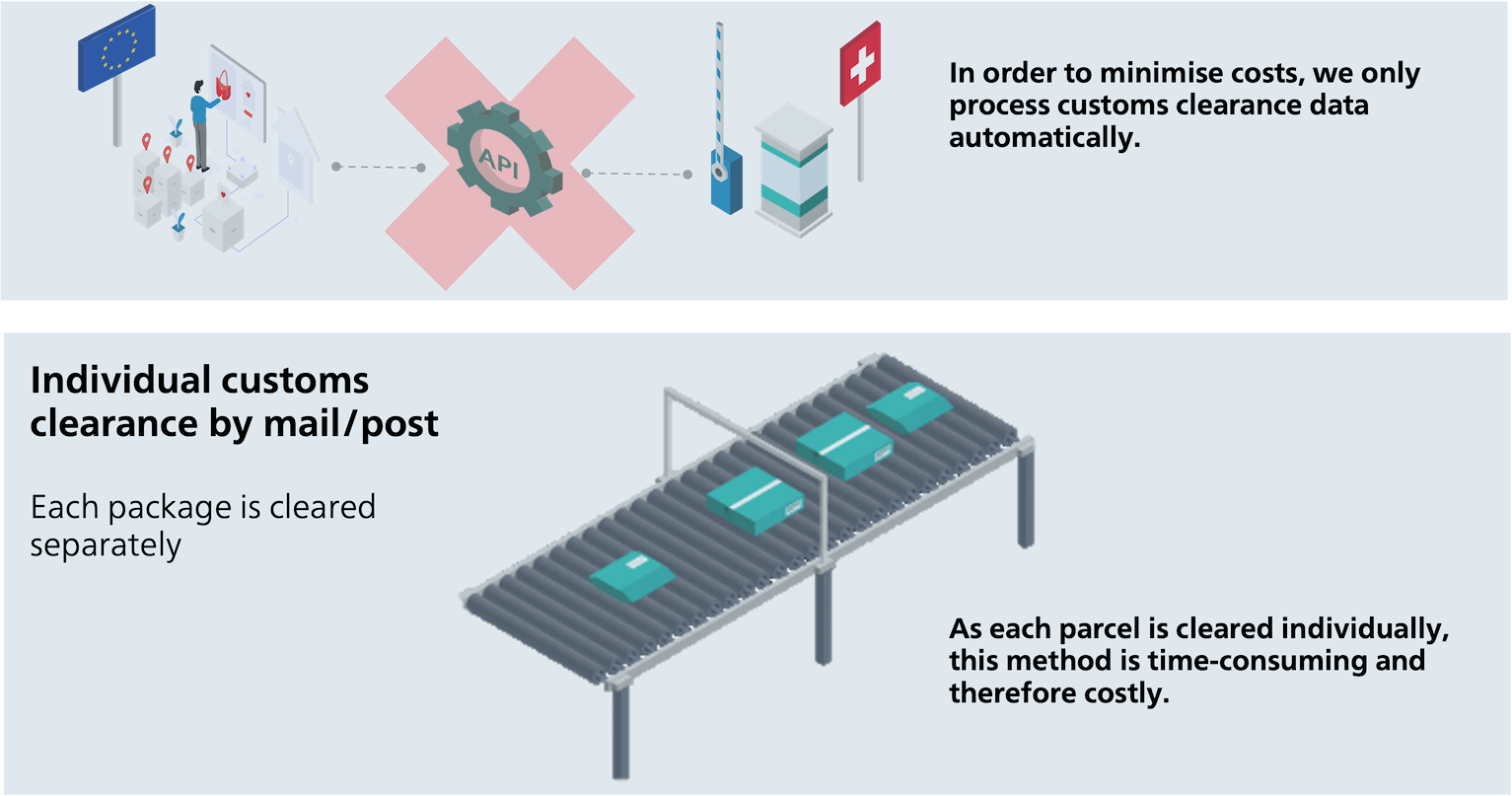 Step 5: Local returns management
Let your customers return within Switzerland! How do you do that? We offer you the perfect returns solution. Customers simply drop off their returns at the next corner, just as they are used to doing with national orders – a dense network of drop-off points makes this possible.
The return label is either physically attached to your consignment or your customers can retrieve it online.
The return is processed after just one day in a Swiss logistics centre.
Depending on the desired level of service, the return is opened and its condition checked.
After a certain time, the collected returns are sent back to you – including export customs clearance.
This allows a quick refund to the customer and reduces the unit costs per return enormously for you – after all, collective transport is significantly cheaper than returning individual returns.
In sum, this means higher CVR and customer satisfaction as well as lower costs for you.
In comparison: International returns management
International returns require the customer to fill out the correct customs document (CN22) without errors. And this is a possible source of errors.
In addition, customs clearance can lead to delays at the border. So it takes a while until the return arrives and before you can pay out the refund to the customer.

Conclusion: reducing shipping costs is rather simple
Whether it's transport, customs clearance or returns: you simply have to send more – and then you can save more.
Do you have more questions? Or do you just want to know how to use Mailbox Plus for yourself and your business?